Banquets available for events such as weddings, rehearsal dinners, company outings, retirements, holiday fare, charitable events, informal buffets, family events, and showers. Banquet menus are individually prepared to include custom items, seating, cocktails and amenities.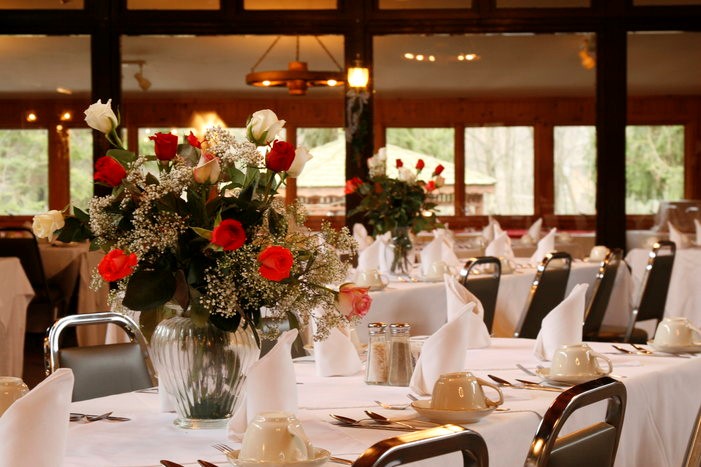 Timbers staff would be happy to supply you with packages enhanced to suit the size and nature of your banquet. From informal buffets to pre determined menus, we can set these and other simple and stress-free arrangements.
Offering year `round dining, banquet facilities and summer dinner theatre, the Timbers is the perfect place to celebrate anniversaries, birthdays, graduations, and to simply enjoy an evening out with family and friends. Thanks to all the loyal support from near and far, the Briody family has been fortunate to serve the Central Pennsylvania area for over forty years in many capacities. Located one mile up Timbers Road, amid the pines of Mt. Gretna, our Mt. Gretna community, commonly known as a summer spot, has really grown into a year 'round respite. The Timbers offers something for everyone with a variety of menu options and different sized banquet rooms for all.
Banquets tailored to style and needs, with plenty of parking and scenic grounds.  The Timbers, readily available in beautiful Mount Gretna.
BANQUET BUFFET MENU (Sample Option)
CARVING STATION CHOICES: Hot Roast Beef, Oven Roasted Turkey, Baked Country Ham, Penne Pasta Marinara, Seasonal Potatoes, Gravy, Two Hot Vegetables, Tomato Sauce, Garden Vegetable Soup
SALAD STATION CHOICES: Salad Bar with a Variety of Fresh Vegetables & Dressings, Crudité with Cream Dip, Potato Salad, Pasta Salad, Fruits, Condiments, Rolls & Butter, Water and Coffee
LIGHT HORS D' OEUVRES (ONE HOUR): Imported Cheese Tray with Crackers / Crudité / Other Hors D' Oeuvres available with up charge
Current price includes four hours after arrival of first guest, setup and linens, bartender and server. (Current prices are subject to change.)
Additional charges not included are tax & gratuity, bar beverages.
Timbers has PA State Liquor and Foods licenses.
717-964-3601
Hours: Banquets Rooms Available 7 days a week
Open to the public
THURSDAY thru SATURDAY at 5:30
A variety of banquet spaces available, appointments & menus upon request