"MAGIC MOMENTS

"  2021 has been canceled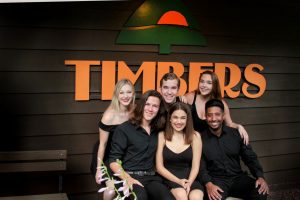 (Photo-2019 Timber's Cast)
The Timbers new musical revue, MAGIC MOMENTS, has been placed on hold due to current Covid-19 PA state recommendations.
CURRENTLY PLANS PLACED ON HOLD IS NOW CANCELED: MAGIC MOMENTS, this season's new two act musical revue written for you, the audience, to enjoy! Right here, at Timbers, this lively and professional event features upbeat entertainers singing and dancing their way to summer fun. Think good times this summer and join us please! Showing July 14th to September 5th, every Tuesday through Saturday evening, you can enjoy this buffet then move to lower level seats, outdoor-under roof, for showtime. (There is also a Wednesday matinee paired with a lunch buffet.) Reserving is easy, just call 717-964-3601 for information.
(Tuesday, Wednesday, Thursday, Friday, Saturday evenings, Wednesday matinee)
Evening Dinner Theatre packages are available for the buffet, starting at $34 per person (Lunch & Matinee $29.50) or add a show ticket for $15.75 to our menu service dining in the restaurant. Reserving is easy, so call now for choice seating as tables are assigned in the order in which reservations are made.   The revue runs July 14th -September 5th, Tuesday through Saturday with Wednesday and select Saturday matinees.
For Reservations Please Call • 717-964-3601 •
---
SUMMER COMBINATION PRICES LISTED BELOW (Subject to Change):
LUNCH BUFFET and MATINEE WEDNESDAY'S
Lunch starting at 11:30 / Showtime at 1:00
INDIVIDUAL RATE……………………………. $30.00
GROUP OF 20 OR MORE ………………….. $29.50
MATINEE and DINNER BUFFET
SELECT WEDNESDAYS
Dinner Buffet (after the 1:00 Matinee)
INDIVIDUAL RATE……………………………. $35.00
GROUP OF 20 OR MORE…………………… $34.00
2021 tentative Summer Show EVENING DINNER BUFFET and SHOW
WEDNESDAY THROUGH SATURDAY EVENINGS
Dinner starting at 6:00 / Showtime at 7:30
INDIVIDUAL RATE……………………………. $35.00
GROUP OF 20 OR MORE …..……………….$34.00
PRICES DO NOT INCLUDE TAX OR GRATUITY
EVENINGS ALA CARTE ALSO AVAILABLE
(SAMPLING LISTED BELOW BUFFET MENU)
•Buffet is in UPPER LEVEL dining area
•The seating is in order of reservation date
•Children's prices available
•Show Only & Buffet Only available
DINNER BUFFET MENU
Carving Station includes: Oven Roasted Turkey, Baked Ham, Hot Roast Beef • Gravy • Breaded Veal • Tomato Sauce •Three Hot Vegetables • Potatoes • Homemade Soup • Salad Bar with trimmings • Crudités • Fruits • Salads • Hot Rolls Desserts: Pies & Cakes • Hot Coffee or Hot Tea
LUNCHEON BUFFET MENU
Beef Scaloppini with Pasta • Turkey À la King • Breaded Fish • Steamed Rice • Two Hot Vegetables • Salad Bar with trimmings • Crudités • Fruits • Salads • Hot Rolls • Hot Coffee and Hot Tea • Dessert Bar including Pies and Cakes
EVENING DINING (LOWER LEVEL) Tuesday through Saturday Evenings
FILET MIGNON
NEW YORK STRIP
BROILED FLOUNDER with Lemon Dill Butter
RACK OF LAMB
VEAL PARMIGIANA
CHICKEN PICCATA
CHICKEN KIEV "Rachel"
BUFFALO CHICKEN TENDERS
STUFFED OYSTERS Remoulade
BOURBON BARBECUE SEA SCALLOPS
SESAME SALMON WASABI
BROILED CRAB CAKES
SHRIMP & SCALLOPS
SURF & TURF or LOBSTERTAIL
* PLUS MANY MORE SELECTIONS
To enjoy the show, simply add $15.75 to the entrée price.
All menu items and prices current and subject to change.
Prices do not include tax or gratuity.
Group pricing available upon request.